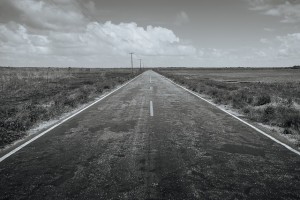 Ah, the great American road trip.  Lots of fun has been poked at them but I have to confess that I love them.  My wife and I have been doing them all our lives, even when we were young and money was very tight.  Anything can happen and does but that makes for great stories years later.
So, let's throw out some ideas to get you thinking…
Cross Country and Back
Just pull out an atlas (you have your Rand McNally atlas, right?) and pick a spot you always wanted to visit.  That can mean all the way across the country or just a few hundred miles.  Then start researching and planning and just go!
Alaska
Did you know that you can drive to Alaska and that people do it every day?  This is one I definitely haven't tried yet but may someday.  You need a good vehicle and you'll put an insane number of miles on it but you'll be talking about it forever.
Pacific Northwest
The Pacific Northwest is another destination I haven't tried yet but can't wait to try.  The area is beautiful with incredible national parks and scenery.  And the whole world wants to move to Portland and I want to see why for myself!
Florida Keys
Everybody raves about the Keys and it is supposed to be a great road trip.  Just watch out for hurricanes!
Up the west coast
This one is supposed to be incredible and you could do the whole thing or just a portion.  California really is like a whole country and the variety of possible stops and activities is endless
Giant Circle around outline of US
Anybody can drive across the country, right?  Well how about tracing the outline of the United States?  This is one for people with a lot of time obviously but I can picture a whole blog devoted to this adventure.
Yellowstone and surrounds
This is what people think of when they mention national parks.  The place really is unbelievable. Wildlife, incredible scenery, hot springs and geysers, there is something for everybody.  This one is somewhat crowded in prime season and takes a little planning for accommodations but it is worth the effort.  Having been there a few times my suggestion is to make a point to get 100 yards off the road.  The crowds disappear and you really begin to appreciate the park.
Southwest
We love the Southwest.  Wide open spaces, more great scenery, nice people.  The climate varies greatly with the altitude.  Last year we left blistering heat near Tucson and climbed into the mountains a few hours later to a snowstorm.  To me the desert is beautiful, but the mountains can be green and lush.  Give it a try!
Texas
Texas is another one of those states that can be its own country.  The place is huge and diverse.  While I've been through the state a few times the state can support numerous road trips on its own.  Do your research, and go for it…
Sante Fe and North
This is one of my favorites and I know "and North" is kind of vague.  Sante Fe is a great little city.  It is easy to visit and easily walk-able.  There is a huge downtown historic square dating back hundreds of years.  This place was active before the Pilgrims even landed!  If you like art the place is heaven, with hundreds of galleries and the world famous Canyon Road, which houses some of the most exclusive galleries in the US.  You can stroll along and see all kinds of art, even if you don't have a spare $100,000 to bring home a souvenir.   The "and North" can take you up to Taos (another artist mecca,) or into Colorado, or even west into the Four Corners area (Look it up!)
Hopefully this list has got your wanderlust working overtime.  Go for it and let me know how it goes!