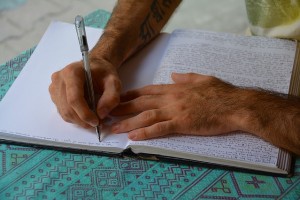 I am terrible at keeping a journal
Writing this article is good for me.  I've tried to keep a journal.  I have fancy notebooks.  I've downloaded software.  I have started with the best intentions, but always eventually give up.
Something always seems to get in the way.  If I try to write in the morning something will come up that appears urgent and off I go and the journal never gets updated.  At night I'm too exhausted to write, or at least I think I am.
And I feel even more guilty after reading some stories on the web.  I read that members of the Lewis and Clark expedition were prolific journal writers.  They returned with over a million words of notes and observations.  They accomplished this with incredible hardships and often while fearing for their lives.  So, what is my excuse?
You need a plan
The key to keeping a journal might be having a plan that is so compelling you can't start or finish your day without writing in your journal.  It needs to be a part of your daily life.
Here's one plan.  Most of us at least make a list of things we need to do.  So maybe if you are trying to write your journal in the morning you start with a "What I need to do" section in your journal.
Then you add a "What I accomplished today (or yesterday)" section to be completed.  Then that might lead to a "What I'm thinking about" section, or a "How I feel" section.  Maybe a "What good things happened" or a "What bad things happened."
The idea is to build up a set of standard topics that you care about and help you plan and think about during the day.  Pretty soon the journal becomes kind of indispensable and you feel something is missing any day you don't complete your journal.
Paper or Digital
People seem to be undecided on this, and there are advantages to both.  We all do so much on our computers that digital seems to be the way to go and your writing can be password protected to keep it private.
Paper journals have that "feeling" that you have accomplished something and it is special because it was written with your real hand.  It probably feels good to fill up a paper journal and start a new one.
So, I guess it all comes down to personal preference and the action of keeping a journal is more important that the method.
Famous Journal keepers
A quick Google search reveals many famous journal keepers.  Below are just 10 I picked out:
Anne Frank
Ronald Reagan
Charles Darwin
Thomas Edison
Marie Curie
Mark Twain
George S Patton
George Lucas
Thomas Jefferson
Benjamin Franklin
How to Start – Just Start
So how do you start keeping a journal?  Just start now.  Grab a notebook (you may even have a "special" notebook laying around from the last time you tried to start.  Or open a document on your computer and start writing.  Just name the document something you will remember and put it in a place you will remember, you can always organize things later.
Maybe use some of the ideas mentioned above or come up with your own plan. Keep it simple and let your journal evolve.
But just start…