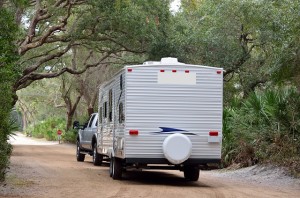 Joy is always a relative term so what we are talking about here is my personal experience.  My wife and I have been looking at various RVs for years and finally took the plunge.  All kidding aside it has really been a good experience so far.  I am by far not an expert and we have yet to take a big trip but so far so good.
Why a travel trailer?
If you start reviewing the various RV sites and forums online you'll see all kinds of advice on RVs.  An RV can mean anything from a tent camper to a million-dollar touring bus and everything in between.  Even among the category of travel trailers there is a great variety, from pop ups and teardrops that be towed by a Prius to giant mansions on wheels requiring a locomotive to tow.
For us a travel trailer made sense because we have a place to keep it for use in the summer months.  It costs much less than powered RVs, and even though we bought a pickup to tow it, that could be replaced when the truck got old without throwing out the trailer.  (And a pickup is so useful!)
Do you need a new vehicle?
Of course, the answer is "it depends."  We looked at some of the teardrop trailers that can be towed behind anything, but decided a full size made more sense for us.  Even though we ended up buying a pickup that purchase will have all the advantages of owning a truck.  You do have to watch your weight ratings.  We almost took the plunge on a really big and heavy trailer but backed out when we figured out we would need a really big truck that probably got about 9 mpg.
About maintenance and costs
I did quite a bit of research on the Web regarding maintenance costs before making a purchase.  One thing I quickly learned is that things do go wrong.  Most travel trailers are built for occasional use and as a result the construction and components are sometimes less than ideal.
The first maintenance cost is where you keep the trailer.  Unless you are lucky enough to have enough space at your home to keep it you will need to rent a space.  This is especially true for northern climates where the trailer needs to be winterized during the colder months.  Inside storage is quite expensive.  Outside is less.  We were fortunate enough to have a piece of ground to keep the trailer and I dealt with winterization myself, a reasonable process if you do your research.
The Achilles heal of RVs is the roof, and they need to be resealed annually to minimize the chance of expensive leaks.  This winter I tried putting a big tarp over the roof to protect it from the ice and snow in Pennsylvania.  We'll see how that works.
And other things do go wrong.  We had a water pump go bad after about a year, and others report things like refrigerators, water heaters and air conditioners giving occasional problems.  An extended warranty can help with these, just review carefully what the warranty covers.
Future plans
We haven't taken any long trips with our trailer yet.  However we have thoroughly enjoyed having our little home away from home sitting on a beautiful piece of eastern Pennsylvania.  I'll have to do an update after some trips…